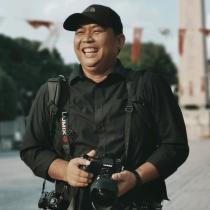 Barry Kusuma
Country/Region:Indonesia
Category:
Food & Beverage
Travel
Photography
Barry Kusuma

Statistics Analysis (30 Days)
Sign in/Sign up to view more data
Barry Kusuma

Hot Videos

Dawet sambel itu cendol, cuma nggak pake santen. Pemanisnya tetep pakai nira kelapa, tapi topping-nya ada bawang goreng, taoge, tahu goreng. Di Desa Jatimulyo, Kulonprogo, ada dawet yang berbeda, yakni Dawet Sambel. Dawet sambel dinobatkan oleh Kemendikbud sebagai salah satu warisan budaya takbenda. Kuliner ini memiliki perpaduan tiga rasa, pedas, manis dan gurih.
208.1K
20.83K
10.01%
69
50
77
Please join our TikTok Inspiration Facebook group
We'll share the latest creative videos and you can discuss any questions you have with everyone!

Digital tools for influencers, agencies, advertisers and brands.
Independent third-party company,Not the TikTok official website.
Copyright@2021 ixspy.com. All Rights Reserved